Hello Friends!
This is going to be a two-book review followed by my thoughts on the whole series. If you haven't read the book preceding the book being reviewed, don't read the review! I don't want to spoil any of them for you because they're so wonderful and you must read them yourself!!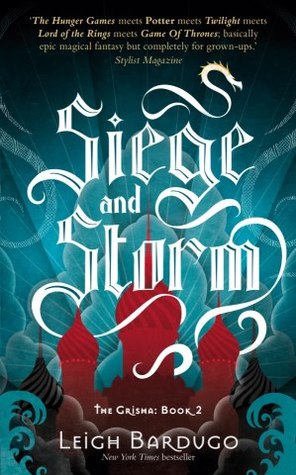 Title: Siege and Storm
Author: Leigh Bardugo
Published: June 4, 2013 by Henry Holt and Co. Rating: 4/5
"I've seen what you truly are," said the Darkling, "and I've never turned away. I never will. Can he say the same?"
With Siege and Storm, we re-enter Ravka, the fantastical version of Russia, with more understanding of its power than we'd had before. At the end of Shadow and Bone, Alina and Mal have escaped from the Darkling and left him behind in The Fold.  They're now on the run, hoping to gain passage to a safer part of the country where Alina won't be recognizable as the Sun Summoner — or Saint. Horrified by what she helped the Darkling do, Alina has to come to terms with who she really is and what her power, and the joining of the amplifiers, might mean for everything she cares about.
I didn't love Siege and Storm as much as I loved Shadow and Bone. I didn't tear through it because the plot didn't force me to continue reading as book one had done. We do get more world building, allowing for more illumination on Ravka and the Small Science. So that becomes slightly less intimidating, which is nice. I was glad to understand more about the powers of the other Grisha; the fabrikators were barely mentioned in Shadow and Bone. We also get some FAN-FREAKIN-tastic new characters!
I think my lack of extreme enthusiasm for Siege and Storm was pretty typical for the middle book of a series. Book one is exciting because everything is shiny and new, and book three is intense because everything comes to a head, but book two typically has less of that heart-pounding excitement. AND, because you're in-between the beginning and the answers, there is always quite a bit of frustration. That being said, this one certainly wasn't bad. It was nowhere near bad. In fact, it was pretty great. Just not AS great as Shadow and Bone. There was a large amount of very necessary development and the ending was CRAZY. Even more so than the ending of book one. Watch yourselves. I did not see it coming.
I can't say a whole lot more than that because there are twists at every page turn and I refuse to take any of its enjoyment away from you. You're welcome. ;)
---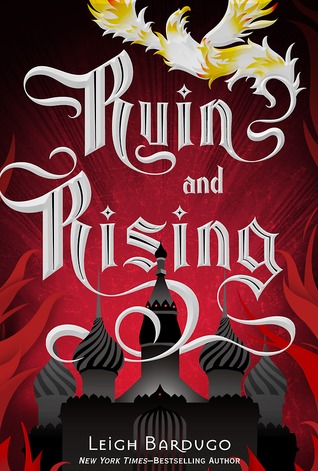 Title: Ruin and Rising
Author: Leigh Bardugo
Published: Jan 1, 2014 by Henry Holt and Co.
Rating: 5/5
"Maybe love was superstition, a prayer we said to keep the truth of loneliness at bay."
I'm not sure why I keep choosing quotes about love from these books. Although romantic love is certainly a theme throughout the series, it doesn't represent the gist of the story. But the quotes.. they're just preeetty. Anywho.
At the beginning of Ruin and Rising, Alina has just tried to destroy the Darkling by using their connection to drain both of them of power and creating her own nichevo'ya. She was thwarted/saved by Mal and led to the tunnels of the White Castle, where she is now being held captive by the Apparat, unable to use her power. Meanwhile, the Darkling sits on the throne of Ravka. Alina comes to recognize the strength of the connection between her and the Darkling, and discovers more about his past than she had ever dreamed. In her efforts to destroy him, she continues to desperately search for the Firebird in the hopes that she can create her own army of light and save the people of Ravka.
Ruin and Rising killed me. I loved it so much. I was right back into the "cannot put it down" mode that I had been with Shadow and Bone. I loved everything about it. I don't know how she did it, but Bardugo somehow twisted my emotions so that I ended up wanting completely different things than I had when I started out the series; I am usually pretty stubborn about my book beliefs, so this was quite a feat.
There was so much grief in this book. Alina becomes more and more damaged while coming into her own. I think this was the first book that I really felt her as a character, and not just as a vessel to tell the story. It was the perfect setting for what had to happen in the end. And let me tell ya, I did not see that ending coming. I hope I'm not just horribly blind and everyone else knew exactly what would happen…
AGAIN, I can't say much more! I am being extremely strict with myself because I really don't want to ruin the book for you guys. I hope you read it and love it as much as I did!!
---
Now for the fun stuff.
**Only continue if you have completed the series, SPOILERS below!!**
OHMYGOSHDARNGOODNESS. Did you see that ending coming?! I did not see that ending coming! I mean I deep down knew that Mal was the third amplifier (the whole wrist-touching power thing was very in-depth for not meaning anything) but the whole back-story of the Darkling's aunt being brought back to life and the life being past down to Mal because he's Morozova's descendant and then Alina's power being taken from her and given to the people omg omg omg.
That's not even the craziest part though. That was a fantastic ending to the book, but not anything necessarily special. What was special for me was that by the end I was team Mal. WHAT. If you check out this post, I was very VERY team Darkling originally. And don't get me wrong, I still loved his character at the end and I teared up when he died, but I was no longer set on he and Alina ending up together. Bardugo and Alina convinced me that they were both just too power hungry to be together. They probably would have destroyed the damn world.
Then there was Nikolai. I think in Siege and Storm I was team Nikolai. I mean, how could you not adore him?! He was my favorite character in the series. Now I wasn't like "look at the passion between he and Alina", I was more rooting for their friendship and eventual love. I could see it. They would have been fantastic rulers together. I seriously cried when the Darkling turned Nikolai into a Volcra. I was so mad. That was when I officially was like ok Darkling, you've gotta go. And then when creature Nikolai still maintained his Nikolainess, I was so happy. I'm so very glad he didn't die. I think I would have hated the book a little bit if he had.
And THEN there was Mal. I didn't like Mal in Shadow and Bone. I HATED him in Siege and Storm. And somehow, I became team Mal in Ruin and Rising. I just didn't trust him I think. And then he was a little beach in book two and I wanted to slap him across the face for being a baby. And then I think it was, somewhat ironically, the fact that he sacrificed his love for Alina to be loyal to her as the Sun Summoner that won me over. I think this was Bardugo's plan. And I succumbed. And I'm not even sorry.
For the record, I totally knew that Tamar and Tolya were with the Sankta Alina worshippers. That whole setup at the party? I saw right through it. But I forgave them. I still love them. Sidenote: I also loved that Tamar and Nadia were together. Same-sex love in fantasy? Yes. Way to go Leigh.
Now I have to mention my four favorite smaller characters: Genya, Baghra, Zoya, and David. They were all so beautifully written. EVERYONE in this book had layers, and I don't think I've ever read a book like that. Like there is so much good and bad in each of them, and if you switched perspectives you'd be rooting for a different team. Overall, that is by far what is making me so obsessed with Bardugo's writing. Anywho. I loved Genya. I thought her gift was really creative right off the bat, and she was my favorite minor character in the first book. Her love for David made me awwww and then his love for her made me awwww even harder. I knew she'd come through in the end. I actually never hated Zoya like everyone else seems to have. I mean, she wasn't nice, but no one really was in this series. I really liked her in the final book. She was who she was, and she wasn't going to apologize for it. That doesn't make her a bad person. I actually think fiction needs more characters like her. Baghra. Aw. I was really sad for her. She had a power hungry father and tried to prevent her son from her terrible fate and he ended up being just as bad.
As for Alina herself, in the first two books I found myself wondering if Bardugo had intentionally fashioned her in a kind of nondescript manner in order for it to be easier for the reader to channel their own viewpoints into her. But by book three I changed my mind. My favorite thing about her as opposed to many other protagonists was that she at least tried to take control, whereas others (I'm particularly targeting Katniss here I'm sorry) just kind of had events happen to them. Alina took control of the second army, then led her own team. She did what she felt she had to do. She actually made decisions.
Finally, the ending was just perfect. It didn't tie up in a neat little bow. Everyone was damaged. When Mal catches Alina playing with the sun rays? AGH. And when the girls come and give her a kefta I cried. AGAIN. I told you this book killed me. But seriously, I loved everything about it.
Okay. That's basically it I think. I hardly had anything to say about this series!!
I'll write again soon! Until then, keep reading!
J. Bookish