Hello friends!
Okay, so I'm getting excited for Winter. Not the season, the book. It comes out next month and I can't wait!! So, I've been thinking about fairy tale adaptations. They're kind of everywhere at the moment. If they're well done, I LOVE them. If they're poorly done, I think they're a complete cop-out. I mean, come on, the basic plot and characters are already laid out. If you can't make an original story out of it, then just.. well, just don't.
My favorite thing about fairy tale adaptations is they give our beloved characters a chance to expand and become actual human beings (or cyborgs, if we're talking about Cinder). Fairy tales are typically short, so we don't really get a chance to get to know our characters. Plus, they're not usually terribly realistic.
Immediately my mind goes to Disney adaptations, of course. Disney has done a lot better lately at creating stronger female characters (Merida, Rapunzel, Tiana, etc.). But the original princesses SUCK. Oh my. Cinderella, Ariel, and Snow White in particular are pathetic characters (I'm sorry, I loved them growing up too). All of them are saved by a man. A man who they hardly know. Cinderella's man can't even RECOGNIZE her. Omg. Not an acceptable message for little girls. Or boys. No gender limitations here.
Anyway, here are the adaptations I've come across that I think are the best of the best!
---
Best: Movie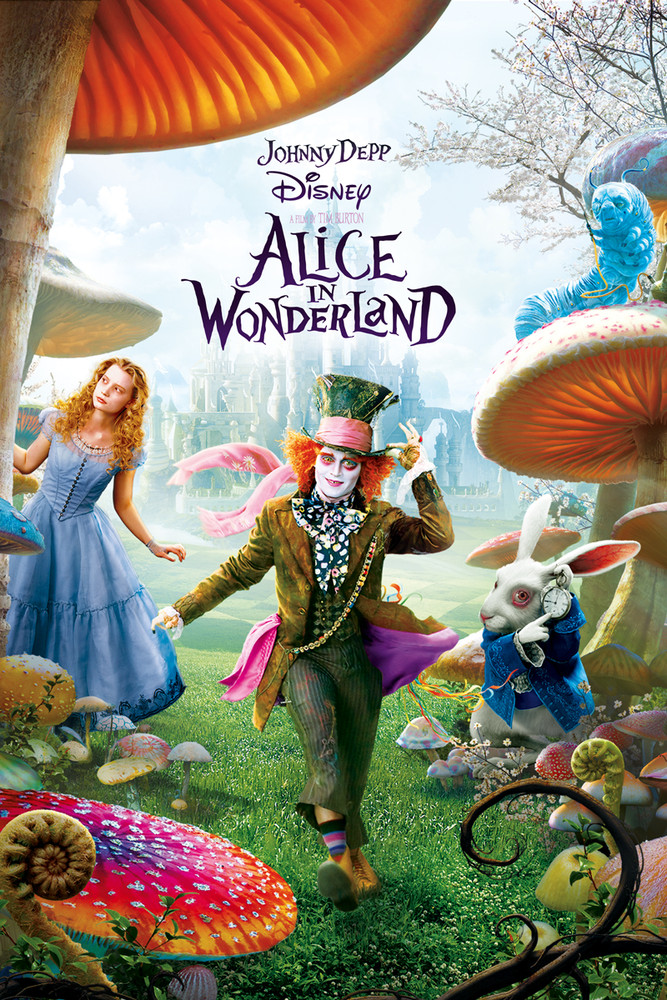 I LOVE this movie. I pretty much love all of Tim Burton's work. Plus Johnny Depp, Helena Bonham Carter, and Mia Wasikowska were all absolutely perfect for their roles, as were the voices of the animated characters. I love that this story picked up after the books, once Alice has grown up. She is stronger and the story is rich and significantly less nonsensical than the original Alice (which I happen to love as well). When I was a freshman in college this movie was on Netflix I would curl up  in a million blankets (it gets very cold in the winter in my college town and I LOVE to sleep in a freezing cold room) in my dorm and watch it while eating Nutella. Such fond memories.
---
Best: Book
I've written about this book before, but I have no shame in mentioning it again because I absolutely love it. Ella is not the weak little girl that Cinderella is. Although she has been cursed to obey any command and is still at the mercy of her step-mother, Ella fights. She is not arbitrarily saved by a prince who cannot recognize her. I really need to re-read this actually… Look out for it on next month's TBR.
---
Best: Book Series
Teehee! I'm a cheater. You didn't think I'd leave these out when Winter was the whole inspiration for this post did you?! Cinder was recommended to me quite a few times before I gave it a chance. The first time, I read far enough to figure out that Cinder was a hated cyborg and the story was set in a new-world China and decided the book was not my cup of tea. Then I started my book blog. These books popped up EVERYWHERE. Every new blog I found had them on their review list. So I decided to give them another shot. I LOVED them. LOVE**. All of them. Marissa Meyer's adaptations are completely unlike anything else. She pulled the roots out of classic fairy tales, sure, but she grew her own gorgeous tree from them. (Hahaha like my metaphor?) Cress is my favorite book. I thought that I would hate Cress, because she is so naive and sweet and I thought that would get annoying REAL quick. But her development blew me away. Cinder is still my favorite character, though. Well, Thorne might be actually. I can't wait for the next book AHHHHH.
---
Best: TV Show
Okay for this I have to start off by saying that it is UNBELIEVABLY CHEESY. But it's also addicting. The authors are fantastic and the intertwining stories of all of our favorite characters are so intriguing. I think the writing of the show is fantastic. The production is where it gets a bit funny. The special effects are not quite up to our 2015 expectations. But still, this show totally saved Snow White for me. She's a badass! Who knew? If you're a fan of fairy tales and haven't given this a shot because it looks a bit ridiculous, I highly recommend that you do. It's a really fun show and it will get your emotions all up in a bunch.
---
Best: Play
I CANNOT SAY ENOUGH GOOD THINGS ABOUT THIS PLAY. Obviously, it's a re-telling of The Wizard of Oz and it is SO much better than the Dorothy story. I feel that I should admit that I'm a huge musical nerd here. But my family went to see the play last summer and my boyfriend came, and he is not a fan of musicals but he thought it was awesome too. So it's that good. The costumes and sets and songs and dances and story and ah. Everything about this is perfect. Favorite adaptation of all time. If you get a chance, go see it. It's expensive because it's AMAZING. But totally worth it.
Sidenote: I've tried to read the book that the play was adapted from a few times and its extremely strange. Like… yeah I don't recommend it. It's quite dark.
---
What are your favorite adaptations?? Let me know, I'm always looking for other good ones!
I'll write again soon! Until then, keep reading!
J. Bookish